You are here
SmartEEG
R&D FUI Smart EEG project unveiling during WoHIT Healt IT exhibition
Based on it Medical imaging experience, PARTELEC has invest on new generation multimodal EEG development synchronized with the patient video HD
A public health challenge :
partnership with AP-HP (Lariboisière et HEGP) and a national working group, under the International Ligue Against Epilepsy (ILAE) and  Neurophysiology Clinical French language branch. France remote EEG have been wroten and integrated to the project terms references.
Present format of EEG is not designed for remote medecine and do not allow to embed EEG, ECG, EMG tracing , on the patient HD video synchronization with annotations taken during his clinical examination in conjunction of pertinent clinical datas.
For the time being a National usages questionary, drafting document destinated to the HAS and a speciality publication valorising the medical act , are on the run.
The project :
To develop and realize the first telemedecine EEG system dedicated to the neurophysiologist.
* Integrate the functional exploration complementaries datas (EEG, ECG, EMG …) as well as the patient datas to secure a full examination
* Dynamic and prioritized management of examens and archives
* Dedicated creation format answering to the overall datas requirements
* Design of a Web console for teleconsultation
Benchmarking and clinical tests validations done by more than ten parisian and province hospitals
The goal , 2016 time to market launching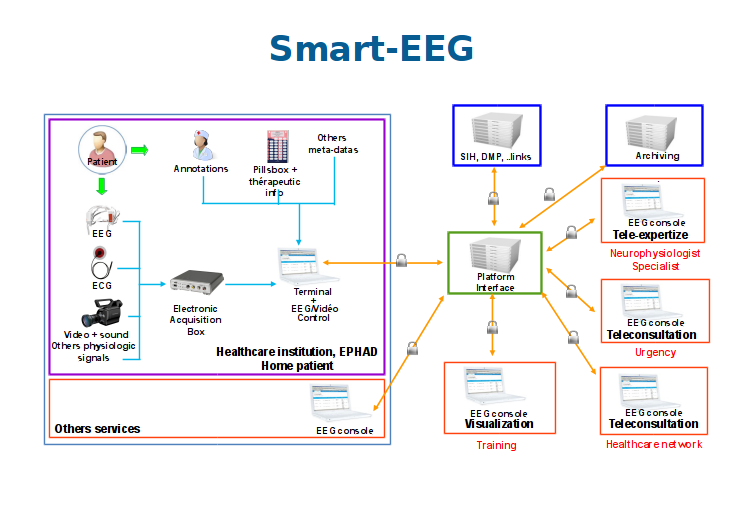 Consortium Members